Dec 09, 2022 05:15 PM

–

Dec 09, 2022 06:15 PM

Central time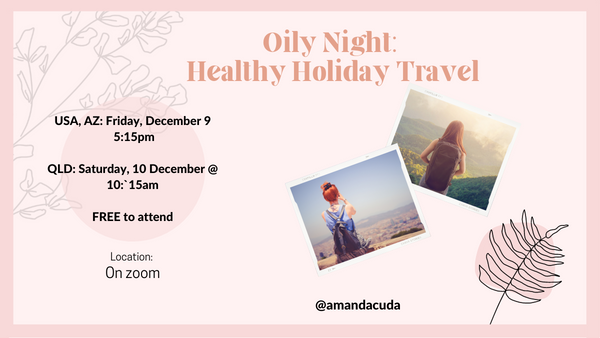 Feel your best during the busiest travel season of the year.
Too often, a holiday trip evokes scenes of planes, trains and automobiles jammed with sneezing, coughing passengers.
If you're not feeling your best, this puts a damper on your vacation! You've taken time off work, saved up your hard-earned cash, and now it's time to stay healthy while you travel!
Come join our community of like-minded people, while we talk about all things essential oils and wellness.
Join Amanda, a seasoned traveler, and discover how to stay healthy while you travel!

Amanda's top travel tips.

How to boost your immune system and keep it supported.

Keep your belly happy, and what to do if it gets sad.

Protect yourself and your family's health and energy while traveling.

Receive handouts.
Cost: FREE - bring your friends!
USA, AZ: Friday, December 9 @ 5:15pm MST
QLD, AU: Saturday, 10 December @ 10:15am
Location: On zoom
Who is this for: Community members of our Oily by Nature tribe and people who are wanting to learn about the power of Essential oils and meet new people.