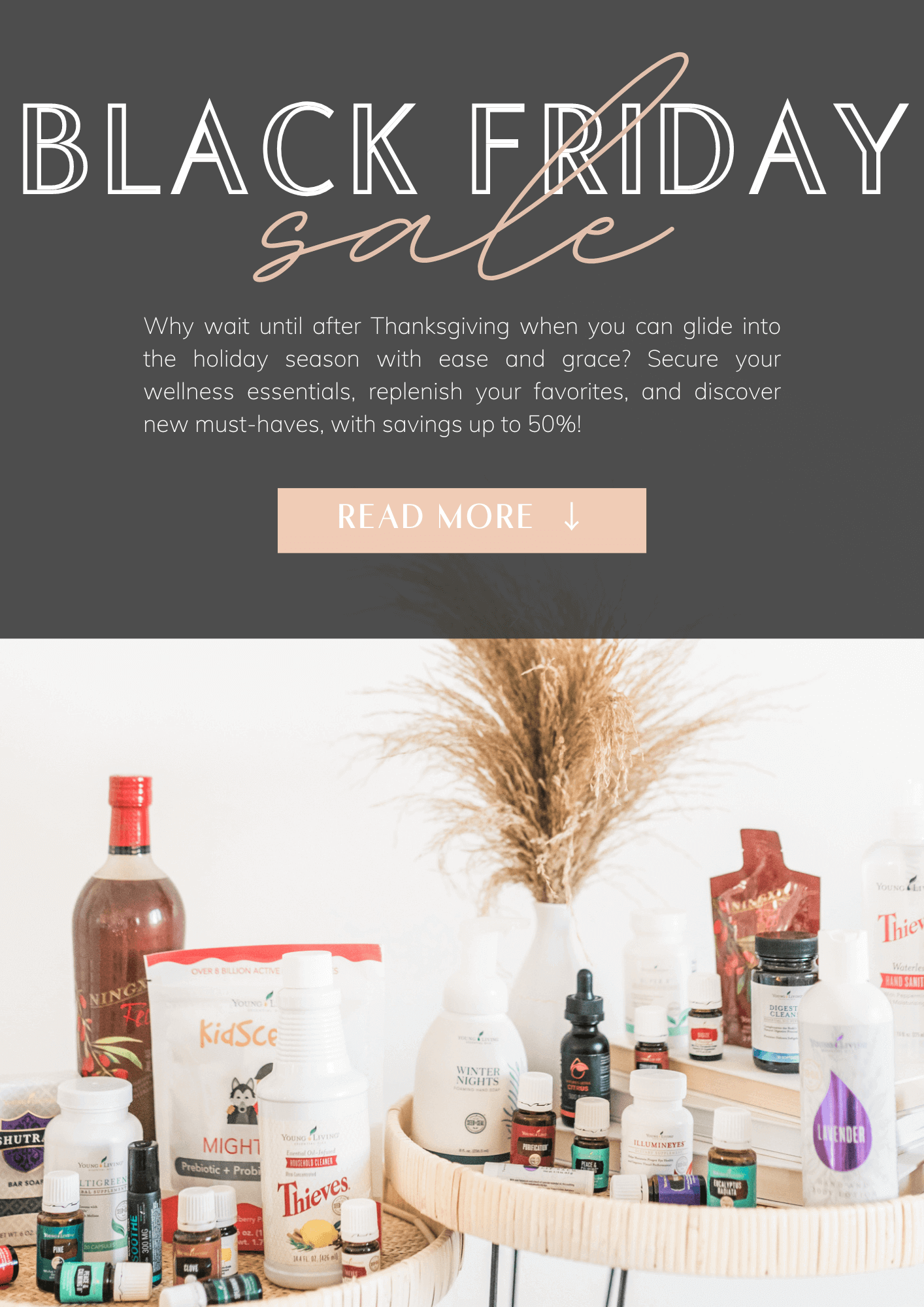 As the crisp whisper of winter begins to embrace us, it's the perfect time to reflect on how we can nurture ourselves and our homes. We know you've experienced the enriching touch of Young Living products, perhaps it's been a while since you've grabbed something, or maybe you're on your last drop of Lavender oil. Whatever the case, we miss you, and we're here with an early gift just for you!
This year, we're wrapping up our Black Friday deals with a bow of convenience -
the sale has started early and is LIVE for you to
shop
. Why wait until after Thanksgiving when you can glide into the holiday season with ease and grace? Secure your wellness essentials, replenish your favorites, and discover new must-haves, all before the festive frenzy begins... with savings of up to 50%! 😱
Imagine this: your holiday shopping done early, your home a haven of health and comfort with the power of Thieves, and your self-care routine set with the purest essentials at your fingertips.
With our sale ending on Saturday, November 18th at 11:59 p.m., MT, or while supplies last
, now is your moment to claim the serenity and savings you deserve.
Stay cozy and content with the best nature has to offer. Reconnect with the Young Living family and let us take care of you this winter.

Picture this: The air in your home dances with the crisp notes of Eucalyptus, the spicy warmth of Thieves, and the calming whispers of Lavender. This is your chance to stock up on all your favorites, discover new staples, and even find the perfect, thoughtful gifts for your loved ones.
From fan favorites, to exclusive, limited time oils, there are over 40 oils on sale this week with discounts from 25-45% off! Whether you're looking to revive your skincare routine, elevate your relaxation, or simply enjoy the pure pleasure of aromatic bliss, our Black Friday sale has something for everyone.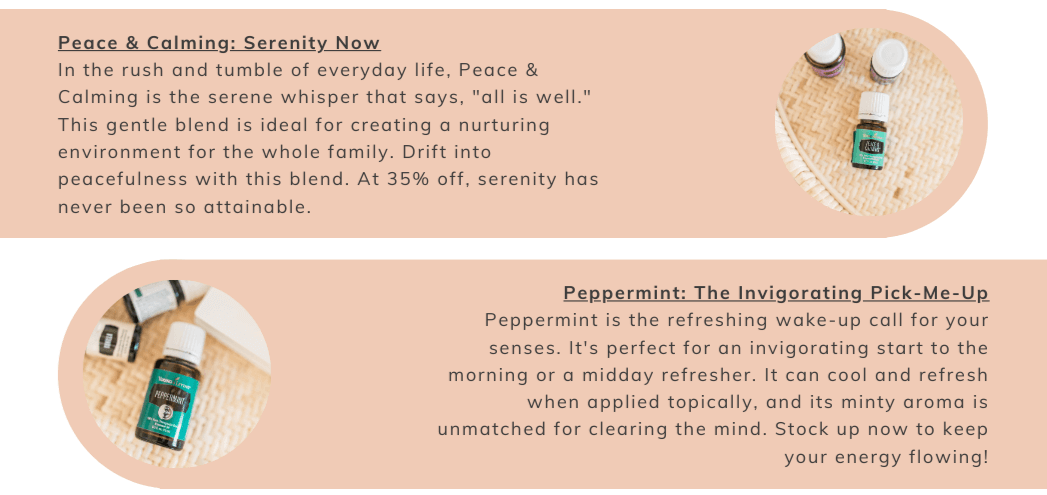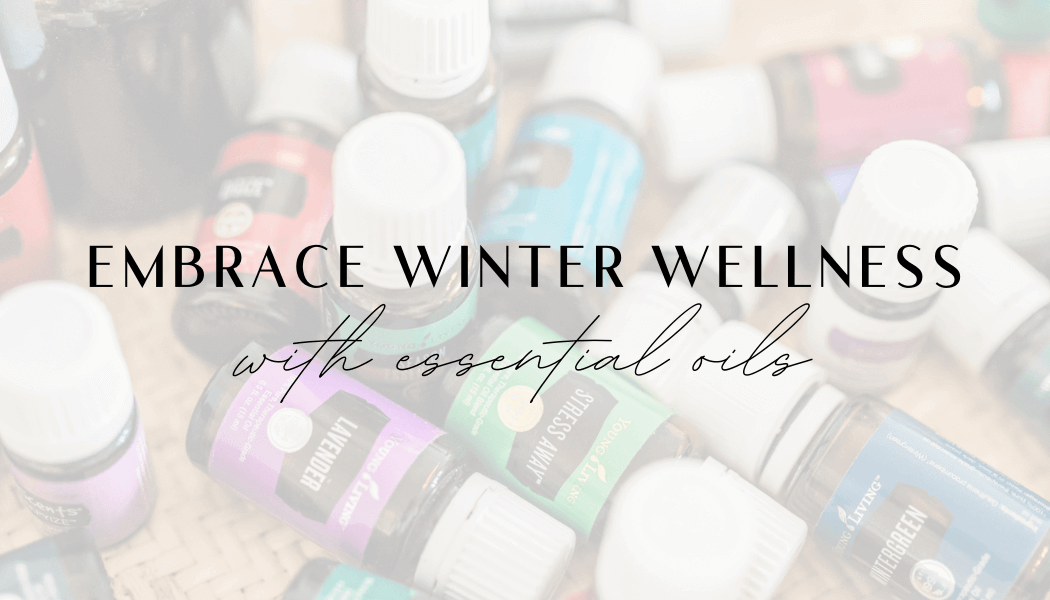 As the days grow shorter and the nights draw in, it's time to prioritize your wellness. Young Living's essential oils are your trusted companions, ready to support you every step of the way. With a selection of nature's finest essences, we invite you to stock up and embrace the comfort and joy that these winter wellness essentials bring.
In the heart of winter, we find a unique opportunity to reconnect with ourselves and our loved ones, creating a haven of health and happiness. These oils are more than mere droplets; they're the essence of vitality, a toolkit crafted by nature for your utmost comfort and joy.
Remember, wellness is wealth, especially during the winter months. Seize this moment to stock up and enjoy the peace of mind that comes with being well-prepared for winter's challenges. With Young Living, your journey into holistic well-being is just a scent away.
Let's break down some of our favorite oils for winter wellness that are on sale this
Black Friday
! With these oils by your side, get ready to embrace a season of rejuvenation, balance, and well-being!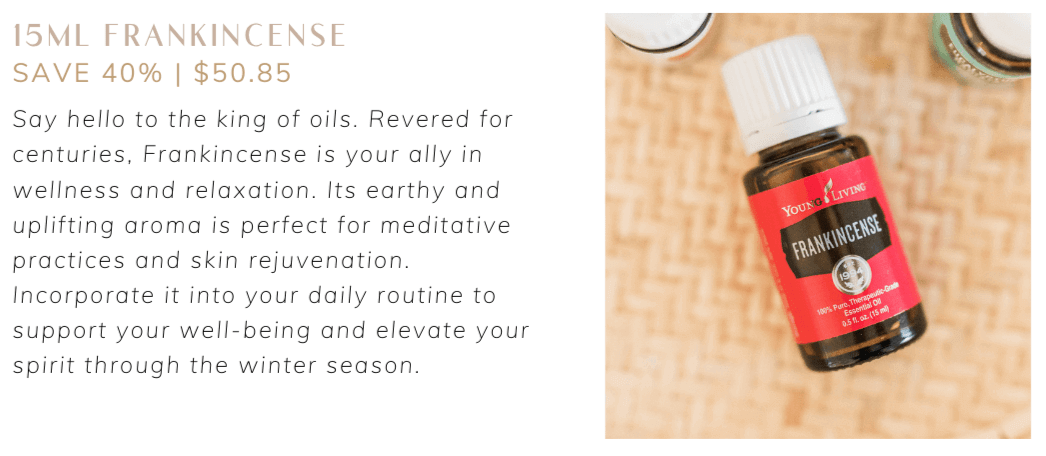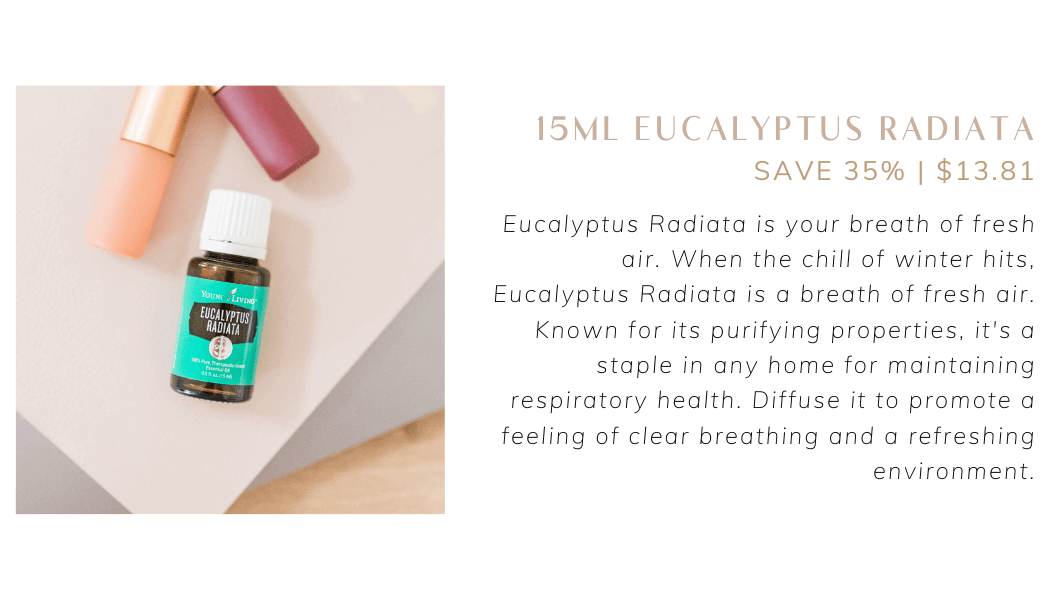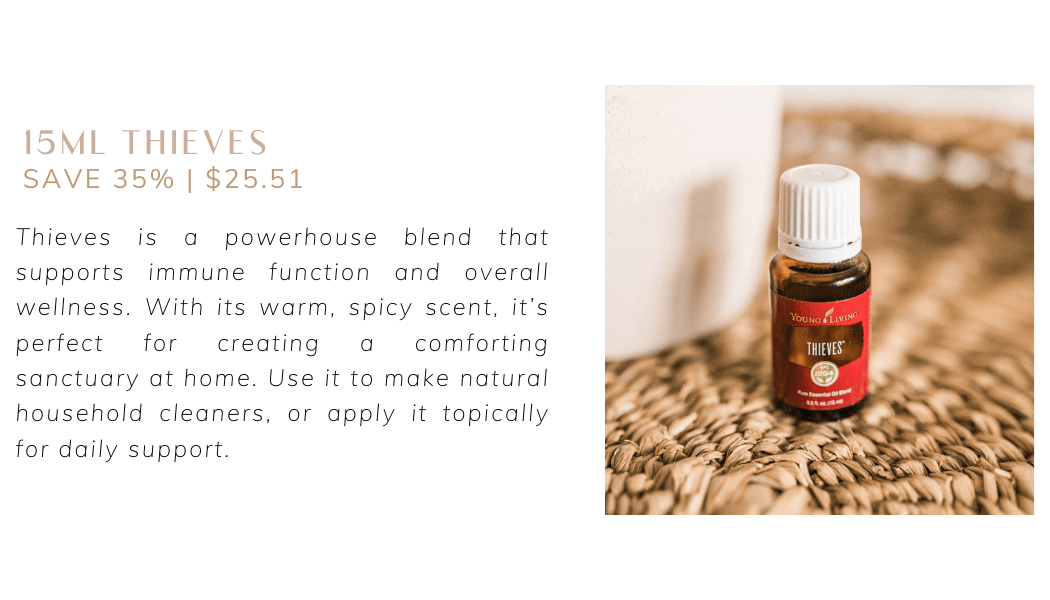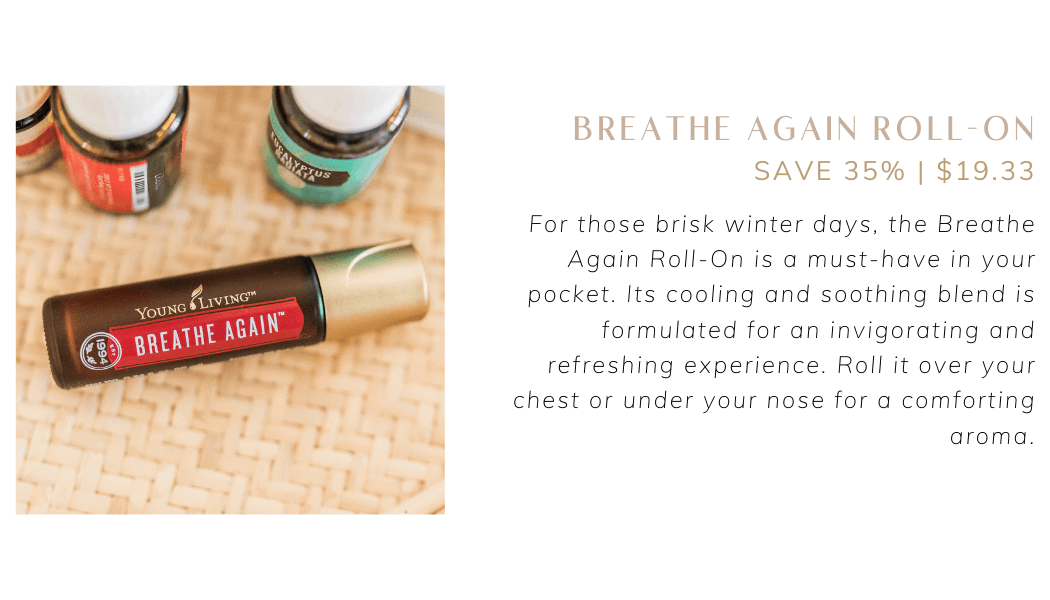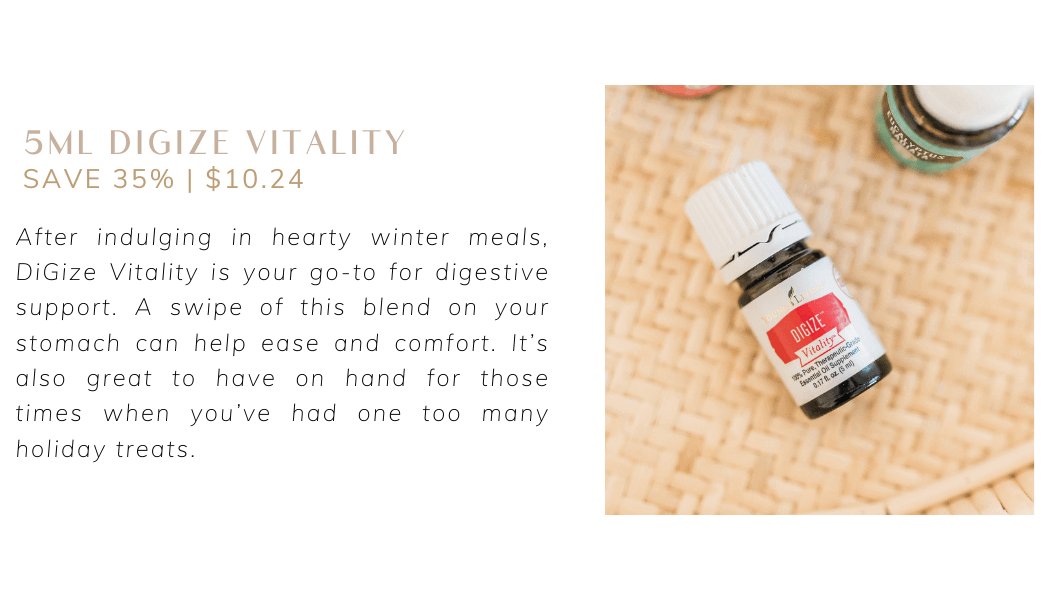 As you cozy up to the idea of a winter enriched by Young Living's pure essential oils, we've designed a thoughtful "shopping list" graphic for you.
Download, save it, and print it out! It showcases all the aromatic treasures on sale, allowing you to visually browse and tick off the items you wish to purchase.

This handy tool ensures you won't miss out on any must-haves and makes planning your wellness regimen a breeze. Check off your favorites, discover new staples, and prepare to enrich your wellness cabinet with the best that nature has to offer.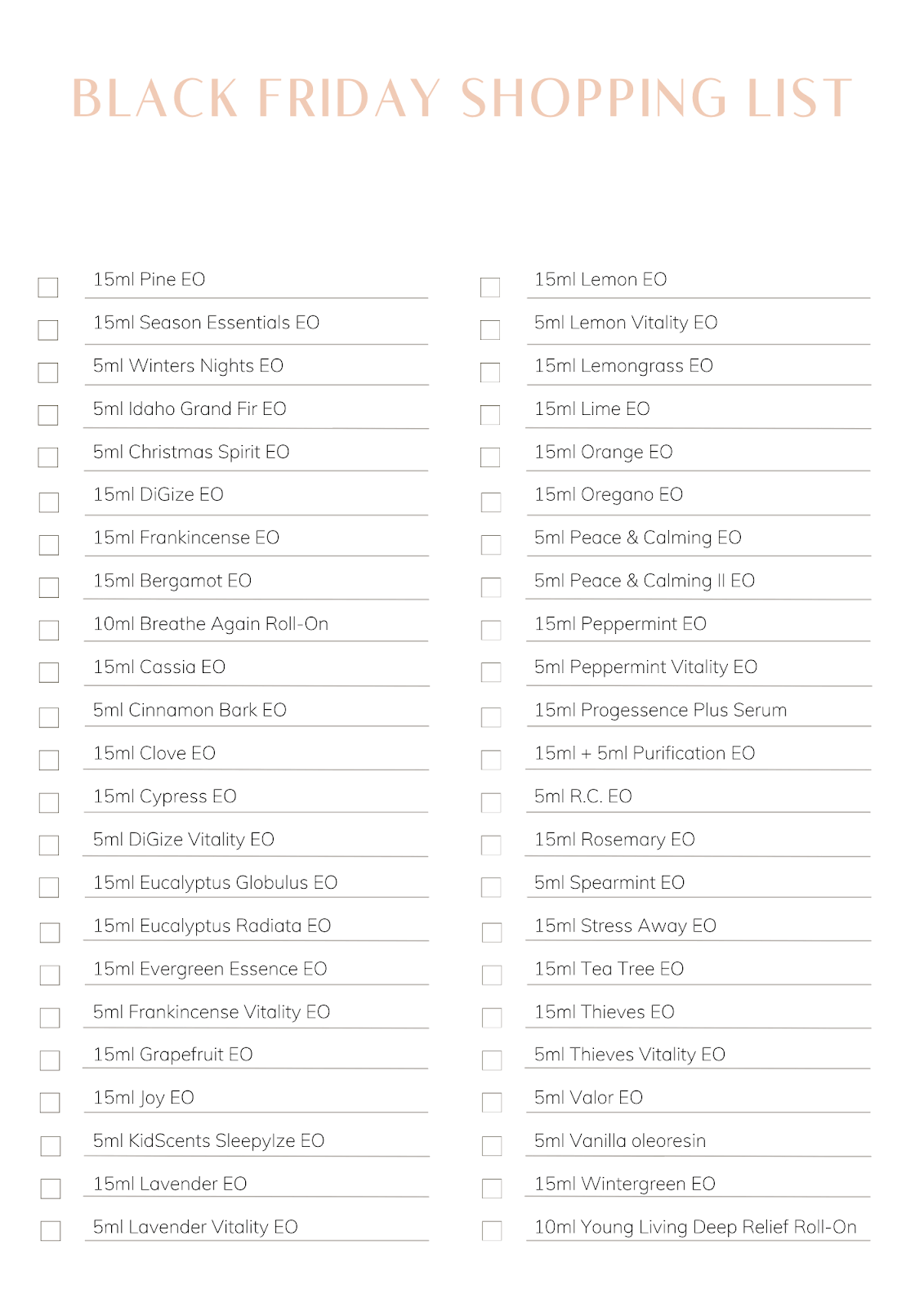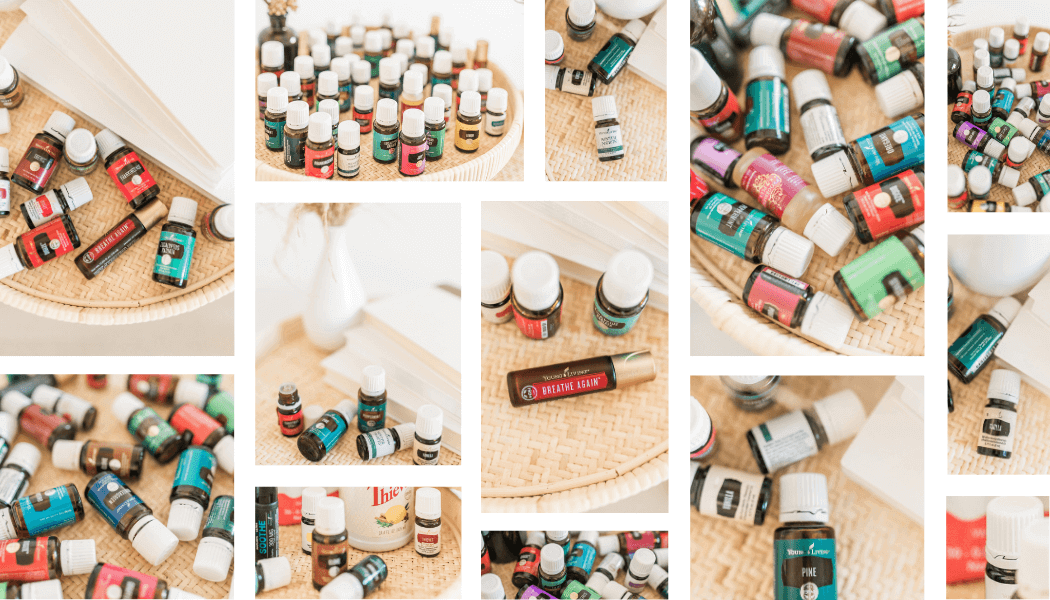 In the heart of winter, when the days are short and the demands of the holiday season loom large, maintaining your energy and wellness becomes paramount. Our carefully curated selection of NingXia products and nutritional supplements are here to power your journey through the frosty months with vitality and vigor.
NingXia Products - Your Daily Nutrient Powerhouses
: Energize your winter days with NingXia Red, a nutrient-rich, delicious elixir designed to enhance vitality and wellness. Infused with the finest superfruits and essential oils, this powerful drink is your ally in combating the energy slumps that come with colder weather. But the benefits don't stop there—extend your wellness journey with NingXia Zyng, a sparkling and refreshing pick-me-up for those moments when you need a little zing. And for an added nutritional boost, sprinkle in some NingXia Greens. This wholesome blend is packed with pure plant-based goodness, perfect for supporting your body's daily nutritional needs.
Supplements - Targeted Support for Total Wellness:
Our supplements go beyond just filling nutritional gaps — they're about enhancing wellness in specific, targeted ways. Whether it's a boost for your immune system, support for your joints, or a daily infusion of essential vitamins and minerals, we have what your body needs to thrive during the colder season and beyond.
With these powerful tools at your disposal, you're set to tackle the winter season head-on. Explore what's on sale, find your perfect wellness match, and seize this opportunity to invest in your health at an exceptional value.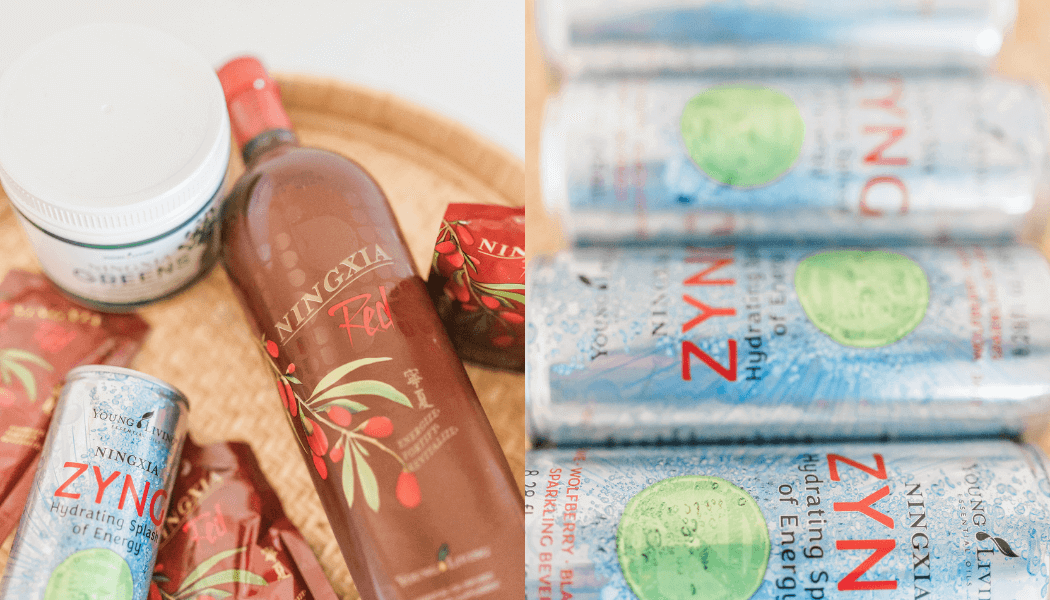 Power Meal powder, 22 oz.
Prostate Health supplement, 60 ct.
ImmuPro chewable tablets, 30 ct.
Pure Protein Complete Vanilla Spice powder, 26.2 oz.
Super Vitamin D tablets, 120 ct.
AgilEase supplement, 60 ct.
Balance Complete meal replacement, 26.4 oz.
BLM Capsules, 90 ct.
Digest & Cleanse supplement, 30 ct.
FemiGen capsules, 60 ct.
ICP powder, 8 oz.
IlluminEyes capsules, 30 ct.
Inner Beauty Collagen, 5.29 oz.
JuvaPower supplement, 8 oz.
KidScents MightyPro prebiotic + probiotic, 30 ct.
Longevity supplement, 30 ct.
Master Formula supplement, 30 ct.
MultiGreens capsules, 120 ct.
SleepEssence softgels, 30 ct.
Sulfurzyme capsules, 300 ct.
Super B tablets, 60 ct.
Super Cal Plus capsules, 60 ct.
Super C Chewable, 90 ct.
Thyromin capsules, 60 ct.
Life 9 probiotic, 30 ct.
Vitality Drops, Grapefruit Bergamot, 3 pk.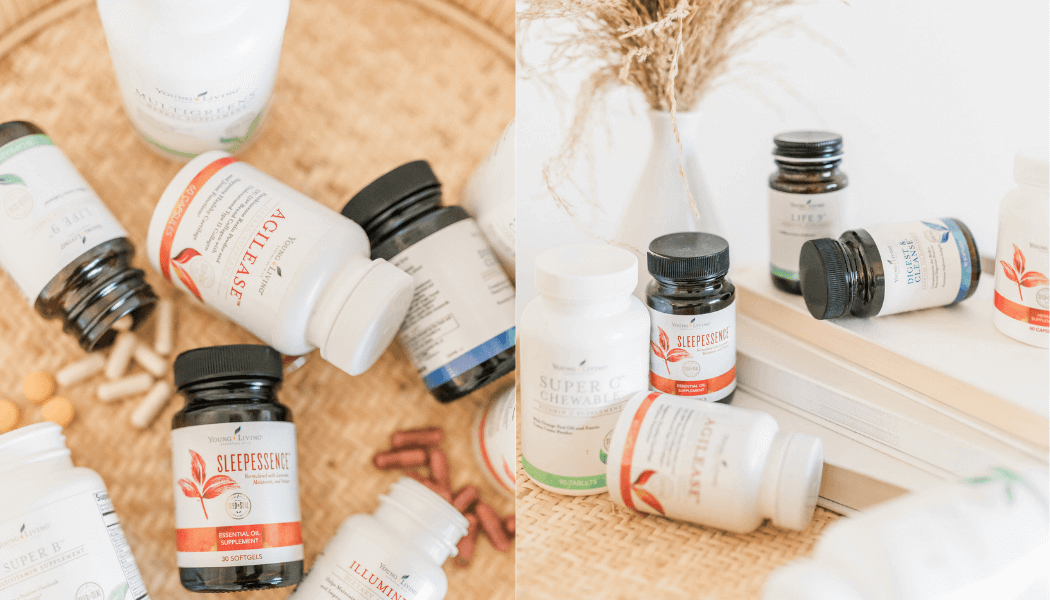 Embrace the protective essence of Thieves alongside nurturing personal care to create a comprehensive wellness experience that touches every aspect of your daily life. This winter, wrap yourself in the wholesome warmth of Thieves and step into a season filled with enhanced well-being and comfort.
Purify Your Haven with Thieves Home Essentials With winter's embrace comes more time spent indoors—spaces where warm air circulates and memories are crafted. Keep your sanctuary immaculately clean with our Thieves Home Products, the cornerstone of a comforting and spotless home. Utilize the natural cleansing power of our Thieves Household Cleaner on every surface and allow Thieves Spray to infuse every nook with its signature spicy scent. Transform your living spaces into bastions of purity with Thieves.
Indulge in Wellness with Thieves Personal Care Elevate your self-care rituals with our Thieves Personal Care collection, a luxurious confluence of nature's finest offerings for your wellness. With the protective essence of Thieves, our toothpaste and mouthwash do more than clean—they nurture and refresh your being. Each product, rich with natural ingredients, brings you the dual benefit of comfort and care as you cozy up against winter's chill.
Discover the full range of products Young Living has to offer this Black Friday. Indulge in the savings with discounts of up to 50% off on some of our most cherished items!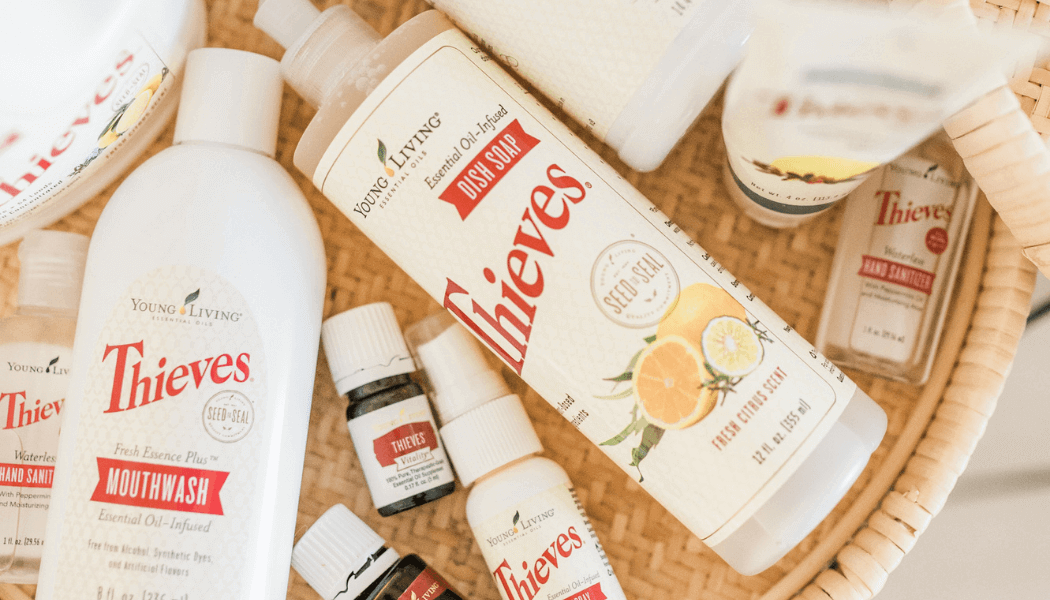 Thieves Waterless Hand Sanitizer, 1 oz.
Thieves Waterless Hand Sanitizer. 7.6 oz.
Thieves Essential Oil
Thieves Dish Soap, 16 oz.
Thieves Vitality essential oil blend, 5 ml
Thieves AromaBright Toothpaste, 4 oz.
Thieves Dentarome Plus Toothpaste, 4 oz.
Thieves Dentarome Ultra Toothpaste, 4 oz.
Thieves Dish Soap, 12 oz.
Thieves Foaming Hand Soap Refill, 32 oz.
Thieves Fresh Essence Plus Mouthwash, 8 oz.
Thieves Fruit & Veggie Soak, 16 oz.
Thieves Household Cleaner, 14.4 oz.
Thieves Kitchen & Bath Scrub, 14 oz.
Thieves Laundry Soap, 32 oz.
Thieves Spray, 3 pk.
Thieves Whitening Toothpaste, 4 oz.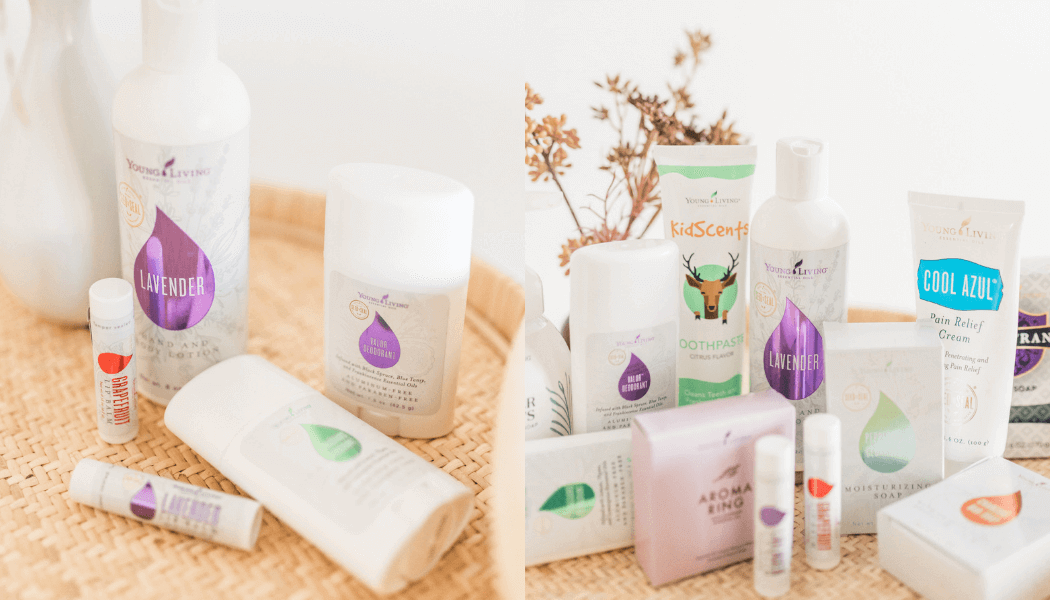 Aroma Ring with Lavender EO
Shutran Bar Soap, 6 oz.
Winter Nights Foaming Hand Soap, 8 oz.
Lavender Hand and Body Lotion, 8 oz.
Cool Azul Pain-Relief Cream, 3.4 oz.
Grapefruit Lip Balm
Charcoal Bar Soap, 3 oz.
Valor Deodorant, 1.5 oz.
KidScents Toothpaste, 4 oz.
Lavender Lip Balm
Peppermint Cedarwood Moisturizing Soap, 3.5 oz.
AromaGuard Meadow Mist Deodorant, 1.5 oz.
As we wrap up our preview of the Young Living Black Friday event, consider this not just a seasonal sale, but a gateway to enriching your lifestyle with wellness choices that resonate year-round. From the calming embrace of Lavender to the refreshing zest of Peppermint, from the home-harmonizing power of Thieves to the life-affirming vitality of NingXia Red, our selection is thoughtfully tailored to enhance, uplift, and revitalize.
This is your invitation to replenish your reserves or to discover new favorites, all at remarkable savings. Embrace this opportunity to elevate your daily rituals with nature's finest offerings. Our gratitude for your continued trust in Young Living is reflected in these exceptional deals — our gift to you as a valued member of our wellness community.
Act now to take advantage of these exclusive offers. Make your selections with care, fill your home with wellness, and savor the pure joy that comes with living well. Remember, the sale ends on
Saturday, November 18th at 11:59 p.m., MT, or while supplies last.
Wishing you a fulfilling shopping experience and a journey ahead filled with health and happiness.