Oct 17, 2023 06:35 PM Central
Amanda Cuda
Nutmeg
, with its warm and inviting aroma, is more than just a beloved scent of the fall season. It possesses remarkable properties that benefit our immune and adrenal systems, and it can naturally help us manage stress responses. In addition to its therapeutic qualities, Nutmeg is also known for its ability to enhance focus, energy, and overall vitality.
Nutmeg at a Glance
Warm, spicy aroma
Uplifting when diffused or inhaled
Soothes tired muscles after physical activity
Supports the body's stress management and adrenal functions
Enhances cognitive function and the immune system
Rich in antioxidants
Offers cleansing properties
A Stress-Relieving Powerhouse
Nutmeg is particularly exceptional for supporting the adrenal system, our body's stress control center. Packed with constituents like sabinene, alpha-pinene, and beta-pinene, Nutmeg is a versatile oil that aids digestion, safeguards the liver, promotes healthy circulation, and provides consistent support to the adrenal glands.
Nutmeg Vitality: More Than Aromatic
Nutmeg Vitality
shares the same essential oil with Nutmeg but is labeled differently for aromatic/topical use and ingestion. It is also loaded with antioxidants and can contribute to cognitive function, bolster the immune system, and offer cleansing properties. You can even add a warm and spicy flavor to soups, fall vegetables, and baked goods with Nutmeg Vitality.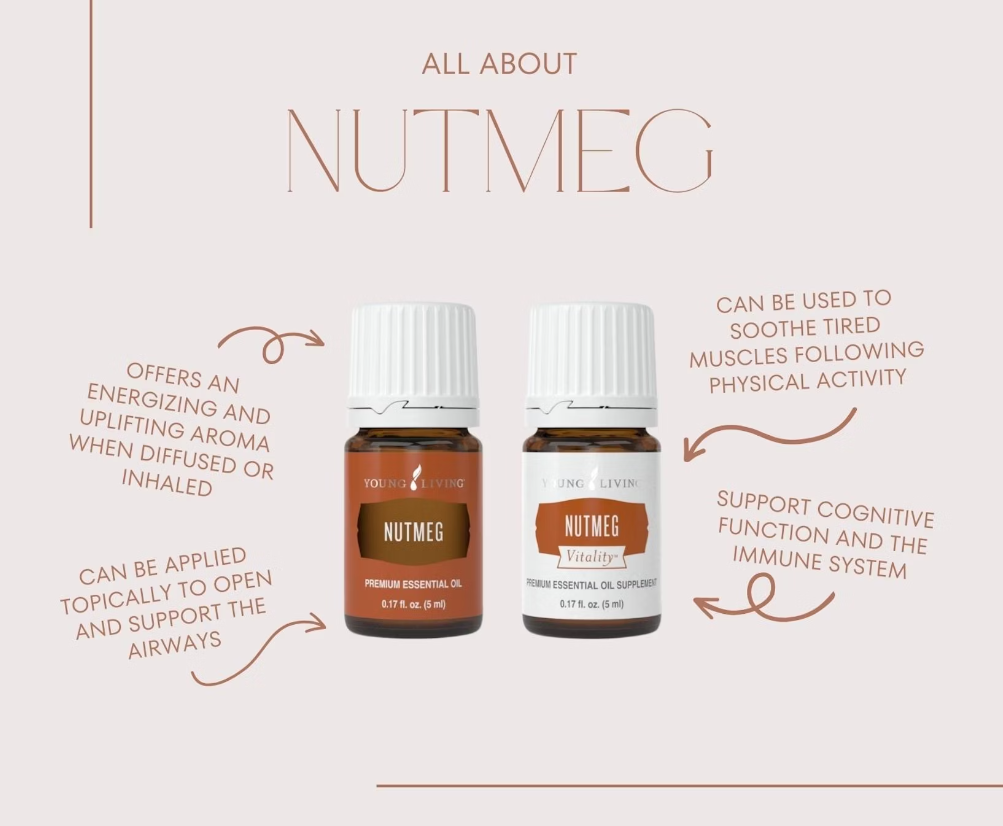 The Roots of Nutmeg
Native to Indonesia, the nutmeg tree yields two prized spices: nutmeg from its seed and mace from the seed's covering. For centuries, nutmeg has been cherished for culinary applications and herbal preparations. The essential oil distilled from nutmeg boasts a spicy, warming aroma that invigorates the senses and supports well-being.
Nutmeg, Stress, and Adrenals
Our adrenal glands, though small, play a pivotal role in our overall health. They are closely linked to our body's stress response, which is regulated by the nervous system. When our adrenals are constantly engaged, it can lead to a cascade of health issues. Prolonged stress activates the "fight or flight" mode in our body, forcing our adrenals to work overtime.
This perpetual state of stress can be triggered by various emotions, such as feeling defeated, victimized, anxious, or lacking in self-belief. Negative emotions can inadvertently set off your body's "danger" signal, even when there's no actual physical threat.
Defeated
Like a victim
No belief in self
Don't care what happens to me attitude
Lack of courage
Anxiety
Misusing the will
Subconscious belief that life must have burdens
Being disloyal to self
Unresolved jealousies and fears
Feels one must struggle for success, power, or position
It's possible that SEVERAL of these things are programmed into your brain as present threats. But negative emotions are threats that switch on the signal for "danger" in your mind, and your body does not know the difference in these kinds of threats and physical threats - it is all bad and meant to be fought or run from. It doesn't really matter if it is truly threatening, your survival switch is ON and the program is on autopilot.
When the thing you are fighting or running from is inside of you, you're truly fighting a losing battle.
The key to overcoming this cycle is reprogramming your mind and body. Here are some initial steps:
Swap out synthetic fragrances and toxins for essential oils and clean personal care products. This reduces your body's daily toxic load and provides a buffer against stress.

Nourish your body with essential nutrients to bolster its resilience.

Integrate Nutmeg into your wellness routine to support your adrenals.
Reprogramming with Nutmeg
As you wind down for the night, inhale Nutmeg to set a positive intention for the next day. Diffuse Nutmeg in your bedroom to create a calming atmosphere. Apply a few drops of Nutmeg to your mid-back, and visualize a refreshed, stress-free day ahead.
Upon waking, give yourself another boost by applying Nutmeg to your mid-back and inhaling its invigorating aroma. This practice sets the tone for a positive, stress-free day.
Key Constituents
Alpha-pinene
Sabinene
Limonene
Product Options
Nutmeg Essential Oil, 15mL
Nutmeg Vitality Essential Oil, 5mL
Daily Habits with Nutmeg
Add Nutmeg to your daily wellness routine.
Enhance your oral care by adding Nutmeg to Thieves toothpaste or mouthwash.
Apply diluted Nutmeg to support the endocrine system, including the thyroid and adrenals.
Create a DIY Stress Recovery Serum using Nutmeg.
Infuse your home with the cozy scent of Nutmeg.
Use Nutmeg to soothe sore muscles and support the airways.
Incorporate Nutmeg Vitality into your daily nutrition.
Make this DIY Stress Recovery Serum
4oz glass dropper bottle
Organic castor oil
25 drops Nutmeg
20 drops Clove
20 drops Frankincense
20 drops Rosemary
Whip up a Fall Spice Thieves Cleaner
16oz glass spray bottle
1-2 capfuls Thieves Household Cleaner
15 drops each Nutmeg, Clove, Cinnamon Bark
20 drops Tangerine
Distilled water
Make a simple Sinus Massage Oil
4oz pump bottle
20 drops Nutmeg
15 drops Lemon
15 drops Lavender
15 drops R.C.
V-6 Vegetable Complex or carrier of choice
Make this DIY Muscle Balm:
15 drops Nutmeg
15 drops Peppermint
15 drops Frankincense
15 drops Copaiba
1 cup solid coconut oil or a mix of coconut oil and organic shea butter
Diffuse with Nutmeg
Nutmeg's warm, spicy scent complements numerous fall and holiday blends, but it's perfect year-round. Try these diffuser blends for a delightful atmosphere:
Stress Recovery: 3 drops Nutmeg + 4 drops Tangerine + 3 drops Clove + 2 drops Frankincense
Marshmallow Latte: 4 drops Nutmeg + 3 drops Ylang ylang + 3 drops Vanilla + 2 drops Cinnamon Bark
Chai Latte: 3 drops Cinnamon Bark + 3 drops Clove + 2 drops Nutmeg + 2 drops Cardamom + 2 drops Vanilla
Morning Stroll: 3 drops Nutmeg + 4 drops Lavender + 3 drops Lemon + 2 drops Peppermint
User Testimonies
"I apply Nutmeg to my mid-back in the mornings to help with emotional support." - Sara G.
"I add Nutmeg to my sleep roller and I love how much better I feel in the morning!" - Mariah R.
"Nutmeg is one of my favorite fall scents! I add it to my diffuser along with orange, clove, and cinnamon." - Amanda C.
"I apply Nutmeg to the middle of my back for adrenal support. It helps so much!" - Brittany S.
"I use Nutmeg every day to help support normal energy levels throughout the day." - Kris K.
"Nutmeg is a MUST HAVE! I use it every day!" - Jessi M.
"I use it every day in my Ningxia Red to help support my endocrine system!" - Cari T.
"Nutmeg is one of my favorite spices, so I always have the oil on hand. It goes in some of my baking, in my oatmeal, in hot tea, etc." - Carol M.
"I've started using Nutmeg more regularly over my adrenals. It seems to be helping my energy levels!" - Jill P.